2008
USS Haynsworth Reunion
Jacksonville,Florida
on the St. John's River
The dates are Thursday, October 08th (for the Early Birds)
thru Sunday, the 12th 2008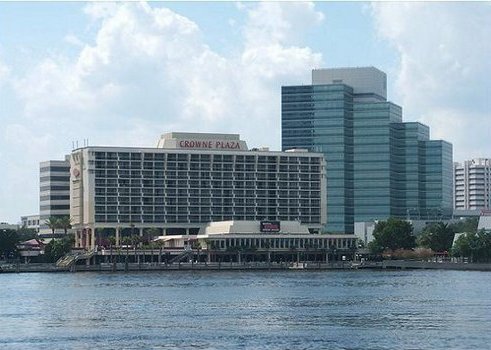 The 19th annual Reunion for the Shipmates and their family and friends will be held in Jacksonville, Florida. Jim and Christina Horn have planned a great event with lots of things to see and do.
The headquarters for this year's reunion will be the Crowne Plaza Hotel located at 1201 Riverside Blvd. The hotel overlooks the south bank of the St. Johns River and just hop across the Main Street Bridge to Jacksonville Landing and the center of downtown Jacksonville. All rooms are non-smoking and feature walkout balconies with either a sunset or river view.
Check-in time is 4 p.m. and checkout time is 11 a.m. The hotel provide many amenities including a heated outdoor pool, 24 hour fitness center, free parking, valet parking, they'll a laundry service, and safe deposit boxes, and much more
Important: Reserve your room before Monday, September 8, 2008
When making your reservations be sure to mention that you're with the USS Haynsworth 2008 reunion group.
Central Reservation Phone Number ( toll-free ) ( 800 ) two to 7-6963
"Stay tuned and see what all is planned for the 2008 REUNION"
Hope to see ALL of you there for another great USS Haynsworth Reunion.
REUNION CHAIRMAN
Jim Horn 58-60
2 Surrey Court
Chambersburg, PA 17201-8756
haynsworth@comcast.net

(717) 263-8090