This biography was sent to me and I found it quite interesting as I'm sure many of you will agree. It's an account of a young kid that joined the Navy and I'm sure many of us can relay similar experiences. If you would care to share your life experiences, please do so and send it to me.
I think it would be neat to add more WebPages to our website with a number of personal biographies written by you, your wife, or children, grandchildren .
Howard Doble 50-52
USS Haynsworth Webmaster
*********::::::::::::::::::::***********
William (Bill) Hannah 53-55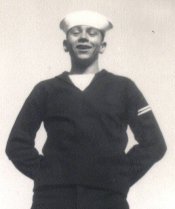 Naval Experience
Prepared by his sister Marie Kitka in August 2008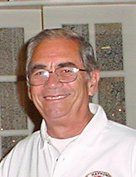 Back in early 1952 I found myself in a lonely desperate situation. I lived alone with my single Mom. Mom at this time had a bad problem with alcohol. We moved constantly. Seemly every time the rent came due. I went from one school to another. I had very little interest in school and very few close friends. Before finishing the tenth grade I just quit attending school. After quitting school, my sister and brother in law asked me to come and stay with them. This I did, sharing a three bedroom home in east Atlanta with Marie, Wesley, children Leslie, Steven, Ronnie, Mark & Hope as well as my dad Bill Hannah. Given the circumstances Marie did a great job keeping things together and Wesley did the same in providing for the family.
Wesley had always been a father figure to me and took me in as a trainee in his plumbing business. This was a fun time of my life as I finally felt I was a part of a family life. I progressed rapidly in the plumbing trade and was enjoying life with no responsibilities. The crowded conditions and the financial stain of keeping the group together led to family disputes and arguments. I felt the need to make my own way in the world. The Korean war was in full swing and all the worlds were saying come and serve your country.
As I was only 17 at the time I could not enlist without my motherís signature. She refused to sign for me to enlist; I was therefore stuck and could not make a move. Finally I convinced her to allow me to join the Naval Reserve by telling her It would only mean meeting every Monday night and two weeks a year active duty. In addition I would be able to advance in rank and would be able to sign for myself at age 18. Once in I found that after 90 days I could volunteer for active duty without her permission. This I did and in February of 1953 I was in Bainbridge Maryland for boot camp, Spent 13 weeks there and due to my experience in plumbing I was sent to pipe fitters school in Norfolk, Va. This was a fourteen week school after which I was assigned to the USS Haynsworth (DD700).
The day after I boarded the ship it left Norfolk for a ninety day tour of duty in Korea. This included a round the world cruise that would last for seven months. We cruised south and through the Panama Canal. Then north to San Diego, west to Midway Island and eastward to Yachousa, Japan. We were then deployed to the Korean theater. I have to this day no idea what we were doing there, but we were there and engaged in shelling the shore line and tracking enemy and foreign ships.
During an anti submarine hunt and destroy exercise we had a major collision with our sister ship the USS Ault (DD698). This was a devastating collision and both ships were severely damaged and placed in dry dock for repair. One man was killed and two injured on the Ault. We were extremely fortunate send sustained no casualties or injuries.
I had two scary memorable moments during this ordeal. The first was when the collision alarm sounded I was trained to go immediately to my battle station. Being in damage control I was assigned to the rear damage control locker. I was the telephone talker (communication relay man). I was the first man to reach the station, broke the glass holding the key and unlocked the door. I was in the process of carefully unwinding the telephone cord when a senior petty officer arrived. He screamed me (damn those headsets boy get life jacket on). This was the first time I felt fear. I was terrified, threw down the headsets and got into my life jacket. Fortunately all the damage was forward and our section was not involved immediately. Of course we did get involved in emergency repair after the fact.
The second moment came as we had been placed in dry dock. The entire crew had to leave the ship while the water was drained from the dock. We were all standing along the wall of the dock watching as the water went down. As the bow (front) of the ship came into view there was a large gapping gash right down the right side of the ship. Hanging out of this gash were 5 inch powder projectiles. These were from the forward ammunition magazine. Had one of theses shells exploded both ships with all hands would have been lost. You can only imagine what an empty feeling everyone had.

We stayed in dry dock for repair for ninety days during which time the Korean war ended, wonderful news for all of us. Once repairs were completed we rejoined the rest of our squadron and continued the cruise. left Japan and sailed to Ceylon, then on to Singapore, through the Indian Ocean and up through the Suez Canal to Port Said , Egypt. We were not allowed to disembark in Egypt as relations were bad and They were fearful of our safety. From there we steamed to Malian, Italy and on to Barcelona, Spain leaving there we sailed east across the Atlantic arriving back in Norfolk completing our around the world cruise.

We had only been back a short while when hurricane Hugo came along, We were ordered to ride out the storm with the rest of the fleet in the Chesapeake Bay. We sailed out of Norfolk with a line of ships that could only be imagined. It was an impressive sight. Once on station we dropped anchor and awaited the storm. It came with a fury. Winds of 130 mile per hour and waves over thirty feet high. I donít remember how long this lasted but it was truly a fearful experience. Once the storm was over we were given permission to return to home station. The captain announced to us that while anchored during the storm we had been blown backwards 35 to 40 miles. In attempting to raise the anchors we found miles and miles of steel cable wrapped around our anchors. This time my repair party was not so fortunate. We were assigned the duty of freeing the anchors. This was done by going over the side headfirst with someone holding you by the feet and cutting one strand of cable at a time with a gas cutting torch. Each cable that was cut would snap very loudly and could have cut you in half, It took a full two days to accomplish this task and we were the last ship in the fleet to return to station.

Within a few weeks the ship left for a Mediterranean Cruise. As I was a short timer (a little longer to serve) I was transferred to Norfolk Naval Station for completion of duty and processing out of service. It was a lonely experience to see my ship leave with out me. My home was gone and I was still there.

Thus my glorious military career came to an end with the exception of twenty eight more years served in various reserve components. I retired from the Air National Guard with thirty yearís service.

It is great to be an American and while I did not become an Audie Murphy, I am proud to know that I have done my part. I believe all the younger generation should serve at least one term of service in honor of this our great country.
William (Bill) Hannah 53-55
Gray, Georgia
unfixer@gmail.com