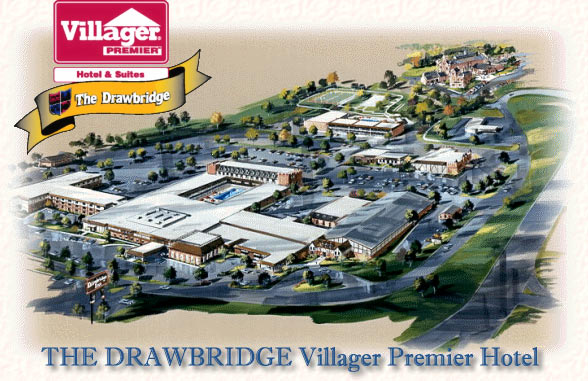 14th Annual Reunion Report
2003- Cincinnati, Ohio
September 25th thru the 28th
The 2003 reunion was held in Fort Mitchell Kentucky and was hosted by Ed O'Brien RD2 57-60 and his wife Kate. There were a total of 118 people who attended the Reunion. Fifty-two were shipmates and 66 were family and friends.
On Friday they took a bus trip to Wright Patterson Air Force Base in Dayton, Ohio. The Museum had aircraft from the beginning of flight to our present day fighters, bombers, spacecraft, vintage clothing and armament, movies, and special displays featuring well-known servicemen.
Friday evening they were treated to a riverboat cruise up the Ohio River and enjoyed the city lights of Cincinnati. During the cruise up and down the Ohio River they were entertained by a female singer and one-man band. He played various musical instruments and played and sang all kinds of music – songs both old and new. There was dancing and a great Italian buffet dinner.
Saturday morning the shipmates attended the annual business meeting (details will be in the next newsletter).

Saturday evening the Reunion Banquet was held in the main hotel dining room where they were served either Roast Beef or Chicken.

In attendance there were six (6) original Plank owners. There were 12 members from the around the World Cruise and seven (7) Shipmates who were attending a USS Haynsworth Reunion for the first time. The posting of the colors was done by the Sea Cadets (Cincinnati branch) and the Special Honored Guest was Bob Adams 50-52 from Greensboro North Carolina, who was the bandleader of the much heralded "Can with a Band". He entertained them with the history of how the Band came about, as well as the experiences during its existence. Bob also performed a solo clarinet rendition of Moonlight Serenade and played and sang several other songs.
The lucky winner of the USS Haynsworth clock was Roy Dowdy MM2 50-53.
Sunday morning's farewell breakfast closed the festivities.
Many thanks to Ed and Kate O'Brien for hosting another "Successful Reunion".
The unofficial count of those in attendance was 114 with 52 of that number consisting of shipmates.
2003 Cincinnati Reunion Attendees??

| Last Name | First Name | Rank/Rate | Yrs on the 700 | Wife | State |
| --- | --- | --- | --- | --- | --- |
| Adams | Charlie Robert | QMS3 | 50-52 | Margaret | NC |
| Baker | Wayne P. | SN | 50-52 | Betty J. | MI |
| Bethune | Cleveland W. | END1 | 51-52 | Peggy K. | GA |
| Blackburn | Foster | SM3 | 55-57 | Jettie | KY |
| Breckenridge | Wm. A. | TM2/c | 44-45 | LaVonne | MN |
| Burke Jr. | Ronald B. | SN | 48-52 | died 1999 | FL |
| Connery | Edward M. | SN | 44-45 | Mary Ellen | IN |
| Davidson | John C. | GM3 | 51-53 | Lorene | MO |
| Donohue | Roy N. | SO3 | 51-54 | Gail | FL |
| Dowdy | Roy L. | MM2 | 50-53 | Elaine W. | GA |
| Fix | Richard | SN | 45-46 | JoAnne | AL |
| Fry | George W. | EN3 | 59-61 | Deceased | VA |
| Gaddis | Wayne Q. | S1/c | 45-45 | Eva | MS |
| Gilcrest | Dana H. | FN | 53-55 | Evelyn M. | OH |
| Griffin | James R | DC2 | 50-52 | Donna | VA |
| Gross | Jack L. | EM1 | 62-64 | Cheryl | MO |
| Hager | Claude W. | RD2 | 55-58 | Nancy Doughtery | DE |
| Hannah | William P. | FP3 | 53-55 | Peggy | GA |
| Harris | Thomas H. | RD3 | 54-58 | Jean | OH |
| Henline | Jack R. | SK3/c | 59-61 | Marilene F. | OH |
| Horn | James F. | RD3 | 58-60 | Christina | PA |
| Hummel | Francis D | YN2 | 45-46 | Marilyn | IL |
| Jenkins | Kenneth J. | CS2/c | 51-52 | Maxine | NV |
| Jenkins | Harold B. | ET2 | 55-59 | Leslie Leggett | VT |
| Jones | Ronald Charles | SN | 57-59 | Barbara A.Ann | MD |
| Kirkwood | Kent S. | MR3 | 51-54 | Donna J. | OH |
| Kramer | Gerald Francis | GMG3 | 62-64 | Frances J. | VA |
| Kress | Leland M. | SK3 | 59-62 | Carol A. | OH |
| Lang Jr. | Bernard William | ET2/c | 50-54 | Marie J. | MI |
| Learson | Capt. Harold W. | Ltjg | 54-57 | Harriett | MA |
| Lueck | Wallace R. | MM3 | 59-62 | Diane Sherry | ND |
| Manderbach | Richard W. | SPEC | 55-57 | Helen M. | ?? |
| Mark | Augustus J. | EM1 | 53-55 | Letitia | NY |
| Mennette | Michael E. | EM1/c | 44-47 | Madeline F. | NY |
| Messecar | Donald R. | TM3/c | 44-45 | Margaret | NY |
| Moore | Paul A. | SN | 50-55 | Marie | MI |
| Oberholzer | Capt. David O.J. | Ltjg | 57-59 | Barbara | PA |
| O'Brien | Edward J. | RD3 | 57-60 | Kate | OH |
| Pagliaroli | Rolando | BM3/c | 50-53 | Mary | NY |
| Perriccio | Joseph M. | RMSN | 53-55 | Patricia S. | DE |
| Potter | Frank D. | RDM2 | 44-46 | Mary M. | MD |
| Saluski | William R. | GM2 | 52-55 | Jacqueline | IL |
| Schnapp | Robert J. | RM3/c | 53-54 | Anna L. | MO |
| Schreffler | James T. | BT3/c | 56-59 | Bernetta I. | PA |
| Schultz | Norman D. | EM2 | 44-45 | Jean | IL |
| Sleggs | John R. | MM3 | 56-57 | Margaret | NY |
| Stuard | Vernon A. | GM2 | 54-55 | Sherry | TX |
| Thompson | Thomas W. | MM3 | 54-58 | Rose Marie | OH |
| Ver Brugge | Robert D. | FN | 49-50 | Barbara | WI |
| Walters | Harold L. | SH3 | 52-55 | Ruth I. | OH |
| Wolf | Raymond G. | BM2/c | 50-54 | Darlene | IN |
| Zelesnick Jr. | Edward A. | RMSN | 60 | Virginia M. | ?? |