Dates: November 1st -2nd - 3rd 2002
The 2002 USS Haynsworth Reunion will be hosted by Ray Kullnat 50-54 at the Landmark Hotel located oceanfront on the south-end of Myrtle Beach. This fine hotel is close to entertainment, dining and golfing venues. Not only is the Landmark Resort one of Myrtle Beach's largest and finest resort, but it also offers its guests a large variety of on-site amenities as well.
It's real claim to fame is that it features America's Largest Resort Indoor Pool Complex. This facility includes a large indoor pool, 5 hot bubbling whirlpools, and a 300 ft. lazy river. Outdoor amenities abound as well - large oceanfront pool, whirlpool, a 300 ft. outdoor lazy river, and more.
The resort features 570 fashionably decorated rooms, efficiencies, and suites. With its outstanding amenities, attractive accommodations, and friendly staff, the Landmark will surpass your expectations and more. The Landmark Resort Hotel is convenient to many area shopping, dining and entertainment venues.

CLICK HERE
If you care to print an "Unofficial Registration form"
that may be mailed along with your check
"to our Treasurer."
Directions

Arriving Via 501/ Stay On 501 As You Cross Over The Intercoastal Waterway At Waccamaw Pottery.
Continue On 501 To 3rd Avenue South. Turn Right. Third Avenue Will Dead End At Ocean Blvd. Turn Right. The Landmark Will Be On The Left At 15th Avenue South.

Arriving Via Bypass 17/ Driving South, The Bypass Will Split Into 17 Business And Bypass. Stay On Business 17. Business 17 Will Turn Into Kings Highway. Travel 15th Avenue South.

Turn Left. You Will See Our Property Directly Ahead.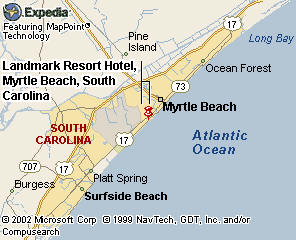 **********************

MAKE YOUR RESERVATIONS DIRECTLY TO
THE RESORT HOTEL EARLY !!!


LANDMARK RESORT HOTEL
1501 South Ocean Blvd.
Myrtle Beach, SC 29577

Call toll-free: 1-800-845-0658
www.Landmarkresort.com
Or FAX: 843-448-6701

The "Special USS Haynsworth" Room Rates are below:

Advanced Reservations

Ocean Front Rooms ….… $53.00 … Plus 10% Sales Tax
Ocean View Rooms …….. $44.00 … Plus 10% Sales Tax
Interior View Rooms ….... $36.00 .... Plus 10% Sales Tax

**********************
Area Attractions
-Alabama Theatre 25 Minutes
-Barefoot Landing 25 Minutes
-Broadway At The Beach 10 Minutes
-Brookgreen Gardens 30 Minutes
-Convention Center 10 Minutes
-Crook And Chase Theatre 10 Minutes
-Dixie Stampede Dinner Theatre 20 Minutes
-Legends In Concert 10 Minutes
-Medieval Times Dinner Theatre 10 Minutes
-Patriots Point - site of the USS Laffey-DD724,
USS Yorktown CV10 - at Mount Pleasant. S.C. 90 Minutes
**********************
Patriots Point
Located on historic Charleston Harbor, is home to USS YORKTOWN (CV-10), the Fighting Lady. The first USS YORKTOWN (CV-5) sank at the battle of Midway on June 7, 1942. Onboard the decks of this famous World War II aircraft carrier, you can relive a momentous time in America's history. The Fighting Lady contains all the evidence of her past; one can see, touch, feel and smell the past, where young Americans fought and died to turn the fortunes of war in the Pacific.
Moored next to her is USS LAFFEY (DD-724), a World War II destroyer. LAFFEY survived the onslaught of Japanese kamikaze attacks while off Okinawa as Radar Picket Station #1 on April 16, 1945. She became known as "the ship that wouldn't die."

**********************
Some Possible Suggestions of thing to do during your stay!
USS Yorktown/USS Laffey DD724 [1 hour south by Tour bus to Charleston to Patriots Point [Bus fee]: …….....… interested yes _____ no ____
Deep Sea Fishing: …………...…....… interested yes _____ no ____
GOLFING: ………………………….. interested yes _____ no ____
Dixie Stampede Dinner Attraction: … interested yes _____ no ____
Other preferences: ______________________________________________
_______________________________________________________________
_______________________________________________________________
*************************